Hi guys, this is my first post on here as Sami has been doing all the hard work so far! Thought I'd kick things off with a little mid-week haul. Over the weekend my mum attended an event called 'Girls Day Out' and on arrival was given a goodie bag, some of which she kindly shared with me, I also threw in a couple of little things I'd bought myself over the past week, although I have used them all so this will be a little mini-review too, so here we go!
Ill start with the products I purchased myself…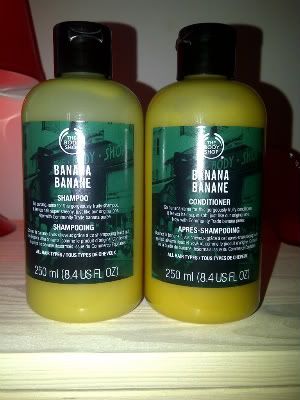 After weeks of going into
The Body Shop
and lusting over this, I finally gave into scent temptation and purchased the banana shampoo and conditioner (£3.99 each 250ml) and after two uses I must sadly say this smells much better than it works.
Good things about the tasty smelling duo are;
The Body Shop
use community trade banana puree when making these, and it does give me clean soft hair. The main selling point of these bad boys though, is the SMELL! Definitely worth a whiff if you're near a Body Shop on your next shopping trip. The perfect banana scent!
However, as I have really thick long hair, I found in just one use i used almost half the bottle of shampoo just to even feel like there was a nice lather, and without the support of the conditioner the shampoo would'nt really perform well on its own. The conditioner is quite thick and creamy though and does leave my hair very soft and smelling very nice.
This duo is brilliant for pleasing your senses and getting the job of a hair wash done, but if your looking for top results then I'd maybe just stick to smelling these…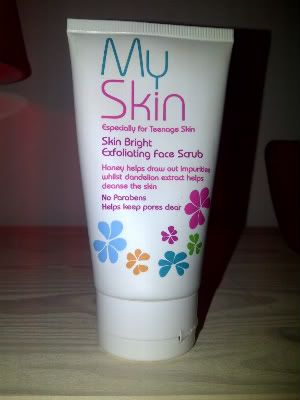 Next its the
MySkin Skin Brightening Exfoliating Face Scrub
(Tesco £2.79 75ml) This product is AMAZING. I stumbled upon this when in Tesco the other week as my face needed a quick scrubbing fix, I had no high hopes for this product at all so when using it that night i was shocked at how good it was. Ive had a long line of affairs with various facial scrubs from all price ranges and this is most definitely the best I've ever tried (even though it says its for teenage skin and I'm 20-cheeky!) The first thing i noticed about this little gem was the smell, its very awakening, all its lovely ingredients include; dandelion extract, honey, ginger and cimicifuga (a fancy plant) extract!
After using this I can see a visible difference in the appearance of my skin, my skin is glowing and feels clean and smooth, I really don't know what more I could ask for at £2.79!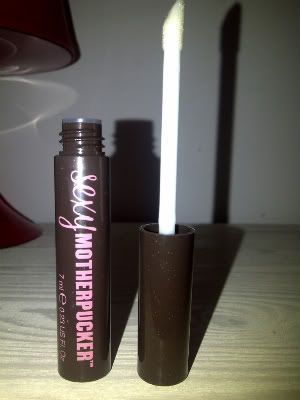 Next up is
Soap & Glory's Sexy Motherpucker
clear lipgloss (Boots £8.43 7ml) This was a re-purchase for me, I already had the pink one but I felt like an impulse and this was it. This is that kind of love it/hate it product and I love it. Everytime I use this my lips look full, luscious and glossy! This is a make-up bag must have!
This is the first of three products my mum gave me from her 'Girls Day Out' goodie bag, the event was sponsored by Boots so they were all lovely
No.7
products!
This is the
No.7 Metallic Eyes Pencil
in shade 04 Gold, these pencils retail at £7.75 although I don't think this shade is available as I couldn't see it on the website but you may be able to get it in-store.
My first thoughts on this are very positive, I love the smooth creamy formula and it's effortless application. The colour is the perfect summer shade and the pencil has lovely pigmentation. This will definitely be getting whipped out during the festival season!
The next freebie was the
No.7 Dream Lash Mascara
in shade 01 Black, this product was not available online so I'm unsure of the pricing.
This really does deliver dream lashes making them very long and very separated, however what it gives in length and separation it lacks in volume and drama. This mascara for me personally, is better suited for daytime use as it doesn't quite have that drama that I like for nights out. However as a daytime mascara this gives you beautiful long healthy lashes.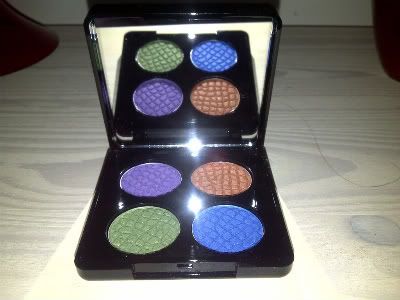 Lastly, and my personal favourite, was the
No.7 Colour Rebellion Eye Palette
, again this was a limited edition Autumn product and I couldn't find it online so I'm unsure if it's still available as it was a freebie!
Firstly the packaging of this little palette is amazing, the snake skin effect is carried through onto the shadows! It comes with four shades, indigo blue, purple haze, red lead and chrome green all of which are intensely pigmented.
I'm sure ill have lots of fun creating make-up looks with these!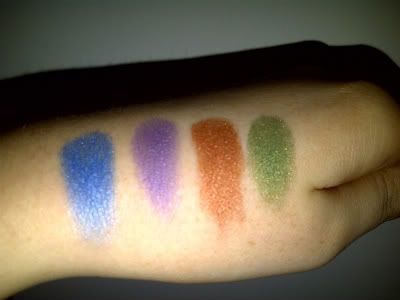 Well guys thats it from me, hope you have enjoyed this very long 'little' haul! Stay with us for many more fun posts coming up later this week, thank you for reading!